Interview with Mark Jones
(August, 2001)


ISGMN: Mark, first of all, I would like to start out this interview by asking you this; In your opinion, what makes a good southern gospel song?

MJ: A great song of any kind must first be well-written. Most well-written songs have many things in common. Two of these things are 1) a strong RHYMING SCHEME and 2) CONSISTENCY (number of syllables in each line, etc....). By studying the 'TOP 10' songs on the chart, I look at things that make each song strong and where the song is the weakest.

Then, the song must be scripturally correct. More and more I find myself analyzing my songs to make sure they contain sound scripture references. Vagueness is OK, I think, but when something is WRONG, it is WRONG.


ISGMN: Since winning the contest, have you had any of your songs picked up by any groups? If so, tell us about it.

MJ: Yes, thankfully I have. I recently have been notified by the group 'Sojourner'. They intend to cut 2 or 3 on this upcoming project. I never will forget the feeling when they called to tell me. It was 10:30 PM on a Saturday night. They were driving through my community the next day for a singing and wanted to know if I could attend. They were interested in meeting me. I did go and really enjoyed the group. Also, a group called 'Proclamation', from Mississippi, has recently notified me of their liking my music and having intentions of cutting some of my songs on their next project also.


ISGMN: How did you get the songs into the hands of these artists? Did they pick them up from a publishing company or did you pitch them directly to the artist? If you pitched them directly to the artist, how did you go about it?

MJ: I did send the songs directly to the artist. First, on how to pitch them, I wish I knew the exact formula that would work every time!! ha ha....... Really, though, a couple of important factors (according to the responses directly from the groups...) 1) Send it on CD if possible!! They can 'fast forward' to song #2 at the touch of a button. So, anyone with a CD burner, or CD writer, can do this. If you have a computer and don't have one, GET ONE!! 2) Make a nice letterhead and return address label saying something about your music. This gives them a good impression like you know what you're doing before they ever listen to the first note.


ISGMN: Do you feel that winning our contest has been a contributing factor to getting your songs noticed?

MJ: I can't help but believe that this contest was a big help. Even at the least, it helps make an impressive 'resume' or list of credits. Since this had just happened, I was enthused about telling them. They seemed to take a 'harder' look at me when they found this out.


ISGMN: Do you feel it is better to have your songs published before pitching them or do you think it is easier to negotiate with the artist when they are not published?

MJ: For years, I have thought that it was a great and glorious thing to have my material 'Published' with a a publishing company. However, after talking with many important people in the industry, including Mr. Charlie Burke, (NQC Board of Directors), it is actually a negative thing unless the people pitching are getting you cuts. They have all agreed that typically, although it gives you access to some great efforts and 'inside' help, it really ties the song up so that you can't pitch it anymore or do anything else with it. So, if you are at a place in your career or writing that you can do a great job pitching them yourself, then you might want to consider keeping them. That way, when you are contacted by a major artist (Gold City, Kingsmen, Kingdom Heirs, etc....), you will probably be asked the question...... Is your publishing clear? If you have to say NO, they sometimes will just pick alternate songs. If they get all the publishing, they make more money. However, if a publisher really works hard to get you good, big cuts, you may be better off letting them have them. As a piece of advice, sign two or three and let the publisher have a crack at them. That way, ALL your songs are not tied up. But, MAKE SURE, that they revert back to you in 12 - 18 months if no cuts are landed.


ISGMN: I heard that you also got a chance to be featured in a songwriting seminar along with Dottie Rambo & Gerald Crab since the contest. Is this true?

MJ: Yes, this is true. I entered this contest last year to try to help some great people who were injured in an automobile accident. This is weird because I didn't know these people at all, Phil and Pam Morgan. However, my heart went out to them. So, I entered.

Then in February, I was able to host a SONGWRITING SEMINAR in Tuscaloosa, Alabama featuring Dottie Rambo, Gerald Crabb, and myself. My contribution? Well, I did keep Dottie a glass of water at all times, Gerald a comfortable chair, etc.... ha ha ha
We had many major problems, most stemming from the fact that we did not have power due to the enormous storm that went through the entire South the day before. It was the biggest of the year with hundreds of thousands without power in the entire Southeast. Anyway, people were traveling through this making their way here to the seminar. Many decided to stay home and sit out their power outage. Hotels were without power, and sent their guests to other hotels, causing a severe overflow of people in the ones that actually managed to have power somehow. Our seminar still had more than 30 people, many from out of state. It was wonderful. Dottie and Gerald were wonderful too. I am so glad God allowed me to meet and work with my all-time favorite Southern Gospel songwriter and now friend, Dottie Rambo.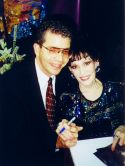 Mark Jones & Dottie Rambo



ISGMN: What other roles do you play in Southern Gospel Music besides being a songwriter? Are you an artist or in a band?

MJ: Yes, I am a songwriter. I own a carpet store as a trade in Tuscaloosa, Alabama. But, I do play piano as well. I play by ear and have played since a young teenager with quartets. Actually, I play drums too. I began playing drums with a quartet called the 'COLUMBIANS', a group from Columbus, Mississippi. Then when my brother went to college, who was presently playing the piano, they moved me from drums into the piano role. It was hard at first, because I wasn't used to having the band follow me. As a drummer, all I had to do was keep the beat and play some 'cool' licks every now and then. As a piano player, one wrong chord really made people have a sour look on their face. I did, though, as most people do. They adapt and quickly I learned what I had in me. Anyway, I later played piano for the 'BAMA BOYS'. Eventually, I had gotten out of it for about 7 years or so. Then God sent a song one day without my getting ready for it. He sent it out of nowhere. Two weeks later, he sent another, then another. I called some friends together and we formed the current group, 'CHOSEN WITNESS'. You can hear more about the group by going to MP3.com/ChosenWitness.

I will admit one important point to the other songwriters reading this....... PLAYING AN INSTRUMENT DID HELP MY WRITING, or at least from a musical standpoint. I do believe it is extremely important to have a good chord structure accompany the words. The song must 'feel' right. You can generally accomplish this test by singing a few lines, the chorus, or whatever, back to yourself several times to see if it has a good 'flow'. If it is too wordy, you should notice it to be hard to sing. This means you should examine why one line is longer than the other and change something.


ISGMN: What plans do you have for the future in Southern Gospel Music?

MJ: Naturally, bigger and better hopefully. Really, though, I do intend to keep on pitching and writing. Things have just now began to really open up and it is amazing, absolutely amazing, how God puts things in your path. TIMING is EVERYTHING!! I have been out of writing for about 10 years. I often think of what might have happened by now if I had continued writing those years. However, I really believe NOTHING!! It is hard for us to comprehend a Heavenly Father who loves us so much he would NOT send something great our way. But, many times, it's coming, just not right now. But, what is coming now is an important stepping stone for your TOMORROW. Those ten years taught me a lot about the next years that I could not imagine. Partly, it allowed me to really see what was missing in my life! Then, when the desire, or hunger, returns in such an enormous way that it is unmistakably from God, you never really give quitting or turning back a second thought. Writing becomes easier. So, whenever bad things come my way, I try to cast them aside and believe that ".... it's just the building of my testimony!"


ISGMN: What is the best way for an artist or group to reach you if they want to listen to some of your songs?

MJ: www.MarkJonesMusic.com is the best way. My website gives you a little of insight into my writing, songs, etc.....
You can e-mail me at mark@markjonesmusic.com
Don't have a computer? Well my full address is....

Mark Jones / Mark Jones Music
7411 Hwy 159
Gordo, Alabama 35466

Or you may call me at 205-364-7488.

And, a quote I usually use.....
'May God bless you just for listening to my music!'
---
Click here to find out more about the next ISGMN Songwriting Contest!
---
Click HERE to go back to the homepage!