International Southern Gospel Music Network
Featured Group for January 2001
Jenkins Sisters & Company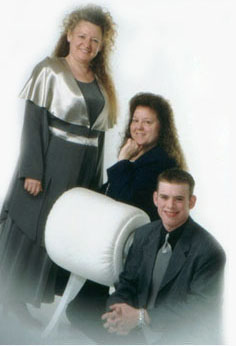 Click here to see an interview of the Jenkins Sisters & Company!

Visit their website by going to http://members.tripod.com/~jenkins_co.

Booking Information:

JSC Promotions

Box 14571

Fort Worth, TX 76117-0571

Phone: 817-489-2466

E-Mail: jenkins_co@yahoo.com

Newsletters from the Jenkins Sisters & Company are available by e-mail or by snail mail. Both are FREE. You may subscribe to either by visiting their website.


To purchase music cassettes and CD's, please visit their website or send your order to the above address. CD's are $15.00 & cassettes are $10.00. Please add $2.00 postage and handling.
---
Click here to join the International Southern Gospel Music Network.
Membership is FREE!
Click here to go back to the homepage.